SOLIDWARE's SVT-750 Stainless Steel Vacuum Military/Camping Canteen was awarded the 2016 iF Products Design Award , which is known as the "Design Oscar" that first introduced in 1954. Every year the iF attracts more than 2,000 product entries from around 37 nations, which are judged by renowned experts, with the best of them receiving an iF seal of outstanding design quality.
SOLIDWARE Guide Camping Canteen
This insulated military canteen is tailored specifically for outdoor sports.
The canteen of arch design matches the waistline of people and fits well with the body. Meanwhile, such design can reduce the burden in walk when the canteen is put into the bag.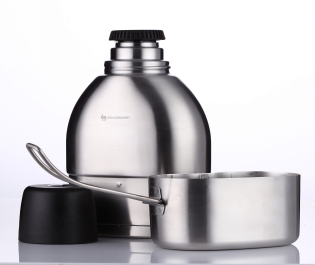 The compass on the cap can tell the direction to facilitate the outdoor sports lovers. The cap can be used as a cup. Its capacity of 100ml is based on the amount of water needed by the body after exercise to promote the concept of healthy drinking. The small opening ensures better insulation effect and the cock controls the flow of water to avoid spill.
The base is detachable and the folding handle can turn it into a simple cooking utensil for camping.